Temples
Chennai, popularly known as the 'Madras', is surrounded by lots and lots of Hindu Temples.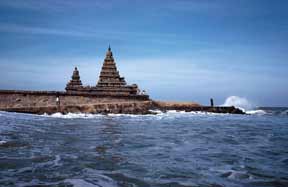 The state emblem of tamilnadu is the goburam of thiruvarur temple. Great alwars like Pei Alwar has born in this Chennai city. Great Divya desam - Thiru Vellikkeni Divyadesam is also found in this chennai city only.
Chennai also has number of Mosques and Churches for those who have religious bent of mind. Some of these Churches are very old and equally beautiful.
Some of the popular temples are:
Kapaleeswarar Temple
Vadapalani Temple
Kandaswamy Temple
Parthasarathy Temple
Maangadu Temple
Kalikambal Temple
Thiruneermalai Temple
Thiruvidanthai Temple
Astalakshmi Temple