Kishkinta is located some 28 kms from Chennai city and towards the south of the city. Kishkinta also happens to be the first amusement park of India. The park hosts a number of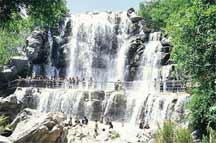 activities including exciting rides, water events, kids zone and many more.
Attractions
Of the various popular events, the joy rides at Kishkinta deserve a special mention. Joy rides like Space Shuttle, White Water, Flame Ride and Wave Pool often forms the priority. The 120 acre theme park is well provided with a natural environment featuring trees, water holes and extravagantly rich green floors. The park area has some beautiful beautiful hillocks and lakes.
The park hosts an important theme called Chennai Koutralam. This is a man made water falls and is real fun.
For kids there is an exclusive fantasy land called Kiddies' Area. This section of the park features castles, water ride, tree houses, swings and many other, related stuff.
The White Water Ride in the rubber dingy is one of the best events. Seated in a rubber dingy, the ride fills the air with excitement once water splashes the dingy. The crew are pushed to the edge when a sudden water burst sends the dingy flying in the nearby woods.
One more important feature of the park is the 3D Theatre. The theatre provides a different perspective of the popular movie entertainment. The virtual environment is provided in a way to so as to give a real feeling, a different experience of the medium. Yet other attractions include the Rainwater Lake and Boating Lake.
The park hours are from 11.00 am till 7.30 pm on weekdays. On Sundays and holidays the visiting hours are from 10.00 am till 8.30 pm.